Rope 201: Foundations of Rope Bondage

Warning: count(): Parameter must be an array or an object that implements Countable in /home/ericho7/public_html/rvarope.com/wp-includes/post-template.php on line 316


Please note that only participants in the course will be able to view or access all course content.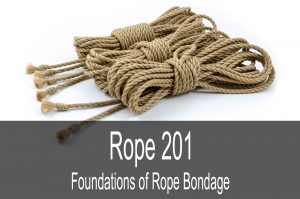 Learning to "tie well, not patterns" through the essentials of Japanese-style rope bondage
Prerequisite: Rope 101 (or equivalent)
Sessions: 8 sessions, 3 hours each
Frequency: Annually in fall and spring
This small-group, in-person instruction will help you build a solid foundation in rope-bondage skills, whether you're a top, bottom, or switch. While we will learn common patterns, the emphasis throughout is on providing a deeper understanding of both the context and practice of rope bondage art that supports our philosophy of responsible progression and "tying well, not patterns."
See the syllabus below for a better sense of the course content. For more information about Rope Study in general, please see the FAQs listed on this page.
Please note: rope bondage of the type we practice at this level and beyond can be dangerous and is technically challenging. Serious study is required in order to practice it responsibly and well. It may be better to think of this as taking up the goal of learning an instrument or a martial art: something that you must dedicate extended time and regular practice to in order to gain mastery.
---
Course Availability
We typically offer this course in the spring and fall of each year (usually starting in February or Mach in the spring and September or October in the fall). The 8 class sessions are typically spread over a period of 3 or 4 months. Because each class builds upon the content of the previous classes, we do not accept new participants after the second class.
---
Syllabus
---
[groups_non_member group="level1-pre"] [kleo_icon icon="attention" icon_size=""]This content is available only to course participants. If you've just joined the site and/or course, let us know so that we can add you. [/groups_non_member]...