DWL and EbiBex Weekend Workshops! – October 5th and 6th , 2019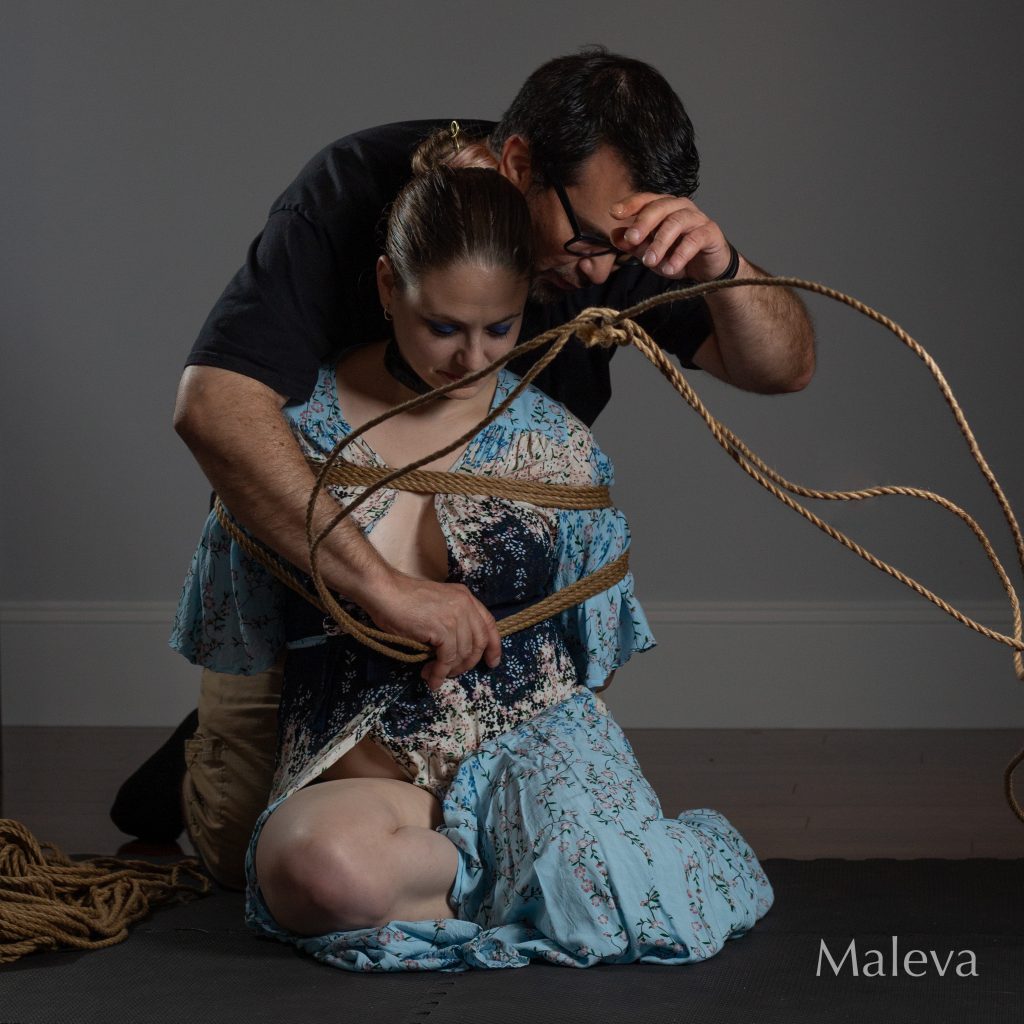 DWL and EbiBex are coming to Richmond to teach about photography, rope, rope bottoming, and rope photography!
Workshop Descriptions:
Saturday, Block 1: Starting from Zero – Making a Photo, Not Just Taking a Photo
(Beginner to intermediate. Hands-on learning; class participants should come with a DSLR that can shoot in manual mode. 3 hours.)

So you've got a fancy new DSLR camera and aren't quite sure what to do with all those bells and whistles. Where do you start? This class will get you on your way to understanding how your camera functions, and how to create an image – not just let the camera take a picture for you. We'll go over shooting in manual mode, composition, and focus – figuring out where to focus and what mode to use. Learn how the Photographic Triangle (ISO, Aperture, and Shutter Speed) work together and how to control these factors to achieve your desired results. Wonder how photographers do "that cool thing that makes the background blurry and the subject stand out?" We'll cover Depth of Field too. In addition, get tips and tricks for seeing and using available light, and shooting in tight spaces – like the bedroom. Your trigger finger will be itching to go by the end of the class! Models welcome, but not required.
Saturday, Block 2: Beyond the Basics – Sometimes I Flash People
(Beginner to advanced. Hands on learning; Hands-on learning; class participants should come with a DSLR that can shoot in manual mode. 3 hours.)
Now you've got a pretty good understanding of your DSLR camera, and are itching to shoot. You want to create sexy fetish photos with intensity, drama and emotion. But how? This class will help you up your photography game and introduce you to manufacturing and manipulating light! Photography is often interpreted as "painting with light" so we'll really dig into using light in creative and dramatic ways – using flash to add light to a scene, on-camera vs off-camera flash, and simple one-light set-ups. We'll also touch on topics like evaluating your shooting space, changing a background you don't like, and different angles and perspectives to shoot from – or why you'll often see DWL lying on the ground.
We also discuss cross lighting, multi-flash set-ups, different types of off-camera flash and mixing natural and added light. You'll find that controlling your light can be an illuminating experience! (Models welcome, but not required)
Sunday, Block 3: "Lights, Camera, Rope, Action!" – Shooting and Tying for Play and Photos
(Intermediate to advanced. Hands-on learning; class participants should come with a DSLR that can shoot in manual mode and have a basic understanding of the photographic triangle. Those who plan to tie should also bring a full rope kit and any needed suspension equipment. 6 hours with lunch break.)

This full-day deep dive into photography and rope will cover a variety of topics for riggers, photographers, models, and everyone in between. Throughout the day, we'll discuss the difference between shooting a scene and a pre-planned photoshoot, applying artistic aesthetics to your rope, taking photos of your own ties without breaking headspace, and more. 
Shooting a scene, whether your own or other people's, requires some unique skills and extra awareness.. We'll discuss some best practices for shooting rope performances and play, negotiating photos with partners, controlling poor light, shooting in tight spaces and anticipating your shot. We'll also go over flattering (or unflattering!) angles, and even using your camera as part of a scene. In addition to shooting your own scenes, DWL will share some of his tricks for shooting other people's play. Capturing facial expressions and real emotion, getting your shot without getting in the way, moving around your subjects, and being mindful of other people in a space will all be addressed. 
One of the most unique aspects of rope bondage is the visual element it offers. From art installations to performances, photography projects to tattoo inspiration, there is something about the aesthetic of rope that draws people. In this class, we'll discuss and demonstrate a variety of artistic principles from photography and how they can be applied to your tying. What kind of mood do different body shapes or poses evoke? How do your up-lines complete the "picture?" What do we mean when we talk about "clean" rope or "chaotic" rope? We'll talk about things like lines and angles in both rope and bodies, directing the eye, different aesthetic styles, rules and how to break them, and the subjective nature of "beauty". DWL will also give some extra attention to uplines, and demo some of his favorite ways to "move bulk with grace" – managing uplines in functional, efficient ways that are quick and easy to manage, pretty to look at, and useful parts of your rope scene. Keep your rope on hand, because you'll be trying these out too! 
Got a crazy idea for an epic photoshoot? What looks simple and effortless in a photo may have required 3 hours of work, a team of people, and a forklift. This class will go over many of the things involved in "A Shoot," a bondage concept or idea executed for the primary purpose of fantastic photos. We'll discuss things like location options, advanced lighting set-ups, and turning bedrooms or other spaces into studio environments. We'll also talk about how a shoot is different than a scene, safety measures and precautions, effective communication and teamwork between photographer, rigger, models and others involved, and juggling being both rigger and photographer. Models/rope bottoms recommended, but not required. 
About the Presenters:
Though DWL (he/him) has been shooting various subjects casually and professionally for more than eight years, he found a new world of creative opportunity when he discovered fetish photography. Upon entering the kink scene over five years ago, he found new artistic opportunities and challenges in kink photography, as well as a passion for capturing the unique energy of a scene. DWL is known for his journalistic style of documenting play, chasing moments of emotion, connection, joy, and pain. His rope style is centered around controlled suffering and connection through creativity, and his artistic aesthetic is evident in his ties. He also enjoys collaborating with other creative minds to bring ideas and visions to life in front of his lens. DWL is constantly trying new things and believes there is always more to learn. His favorite photo? "The one I haven't taken yet."

EbiBex (she/her) is a queer, masochistic bottom who first discovered rope bondage when she was a wee baby kinkster, but in the last five years has been able to fully immerse herself in the rope scene alongside her partner, DWL. She considers herself very lucky to have learned from, tied and collaborated with incredibly talented and skilled rope people, and is constantly striving to grow as a rope bottom, submissive, and model. Bex primarily approaches rope as a type of connection and partnership, as well as a form of artistic expression. She firmly believes rope bottoming should be accessible to everyone, and hopes sharing her experiences and knowledge will help others find their happy (or not-so-happy!) places in rope.
Pricing, Payment, and Registration Information:
See the Eventbrite Page for Pricing and Payment Information!